Pfaffenkopf wind farm (2021)
-

t CO2 avoided
-

German three-person model-households supplied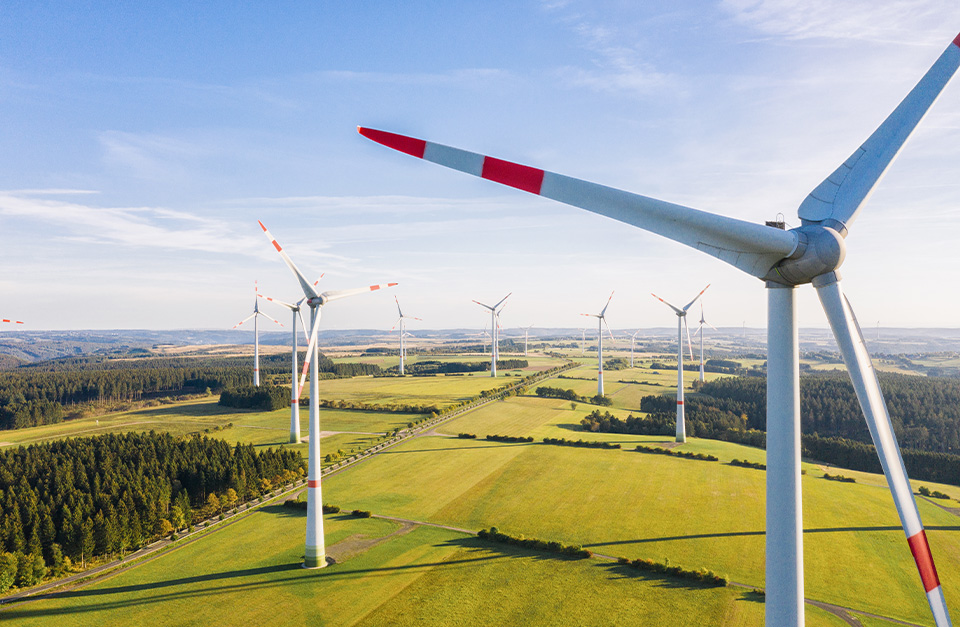 The Pfaffenkopf wind farm project is our third realized Saarland project. In the north of the Saarbrücken Regional Association, between Altenkessel and Riegelsberg, two E-115 wind turbines (WTGs) with a hub height of 149 m and an output of 3 MW have been erected on the commercially used forest areas of SaarForst. The electricity is fed into the Hilschbach substation near Riegelsberg. This means that numerous households can be supplied with climate-friendly electricity.
The operator is Windpark Pfaffenkopf GmbH & Co. KG. DunoAir is responsible for operational management.
In June 2016, we had submitted the application for approval in accordance with the Federal Immission Control Act (BImSchG) and received the permit in summer 2018. The production of the infrastructure started in March 2020, so that we were then able to start building the facilities in the summer. Construction was finally completed at the beginning of 2021.
To compensate, existing spruce stands will be converted to oak-hornbeam forest in addition to the initial reforestation and replanting of site-appropriate trees and shrubs. The measures can make native forests more resistant to climate change-induced drought and bark beetles. On the other hand, ecologically higher-value forests have positive effects on native animal species. To this end, DunoAir, in cooperation with SaarForst, is taking several trees out of use so that they can be used as roosting trees by bats and birds. In addition, however, the attached nesting boxes will also provide roosts for bats.
The two turbines are another positive example of thoroughly compatible wind turbine locations in commercial forests.
Show Energy Yield
Planning: 2015
Construction: 2020
Commissioning:
Q1 / 2021
Turbines:
2 x E-115 (3,0 MW)
Operator:
Windpark Pfaffenkopf GmbH & Co. KG
Location:
Saarland, City of Saarbruecken
| | |
| --- | --- |
| ESTIMATED YIELD | 12 MIO. KWH |
| CO2-SAVINGS | 6,300 TONS |
SO2-SAVINGS
6.15 TONS
ELECTRICITY FOR 3,800 3-PERSONS HOUSEHOLDS
Further windfarms operating