Mastershausen I wind farm (2007)
-

t CO2 avoided
-

German three-person model-households supplied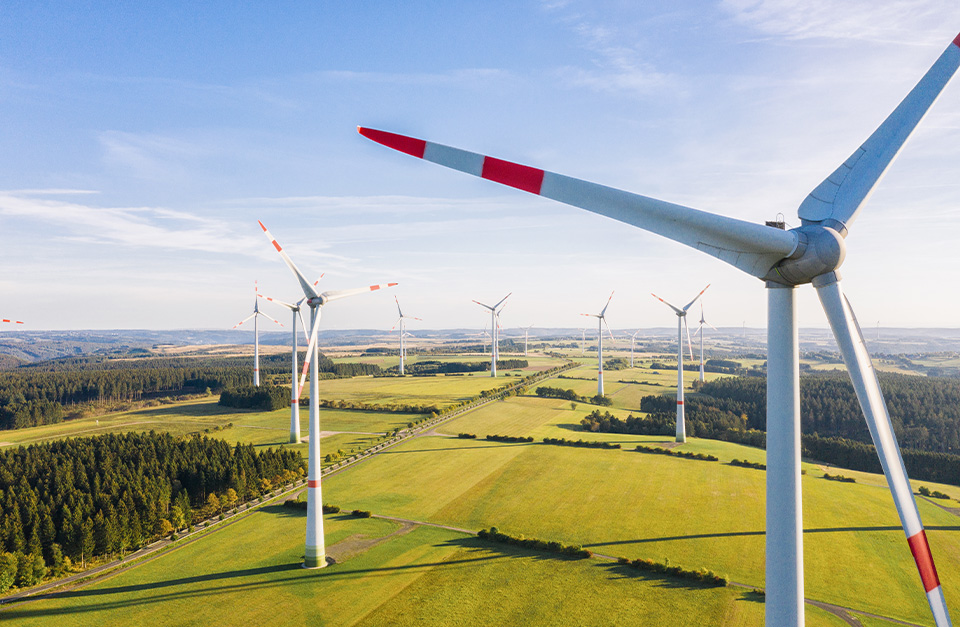 Mastershausen I wind farm
The municipality of Mastershausen recognised the potential of wind power for the region early on. Working closely with us, two wind farms have been built in the vicinity of the community over the years. DunoAir's entire rent for the area goes to benefit the local population. This is why, due to wind power, Mastershausen is one of the few debt-free municipalities in the Rhineland-Palatinate and the inhabitants are justly proud of their wind farms.
Construction of the wind turbines started in the spring of 2007 and just a few months later the Mastershausen I wind farm was connected to the electricity grid.
Seven E-70 Enercon wind turbines, with hub heights varying from 87.5 m to 113.5 m, were installed. The annual production of the Mastershausen I wind farm is approximately 27 million kilowatt hours and it supplies electricity to around 7,000 households. The wind farm saves the environment 14,200 tonnes of CO2 and 14 tonnes of sulphur dioxide a year compared to conventional energy sources.
In 2008, the wind farm ran a full 12 months for the first time and achieved a yield of around 26 million kilowatt hours. Thus 97% of the forecast result was achieved.
Show Energy Yield
Planning: 2006
Construction: Q1/2007
Commissioning:
Summer 2007
Turbines:
7 x E-70 E4 (2 MW)
Operator:
Mastershausen GmbH & Co. KG
Location
Rhineland-Palatinate, Rhein-Hunsrück-Kreis, Kastellaun, Mastershausen
Standort:
Rhineland-Palatinate, Rhein-Hunsrück-Kreis, Kastellaun, Mastershausen
| | |
| --- | --- |
| ESTIMATED YIELD | 27 MIO. KWH |
| CO2-SAVINGS | 14.200 TONS |
SO2-SAVINGS
14 TONS
ELECTRICITY FOR 7.000 3-PERSONS HOUSEHOLDS
Further windfarms operating